The UK's decision to leave the EU has led to unprecedented levels of uncertainty and concern across political, economic and social landscapes. Never has resilience been so necessary.
Working life was challenging enough before June 23rd. Since then the climate has become far more volatile. This creates pressure that negatively impacts people's emotions, decisions and behaviour on a daily basis.
Yet leaders and managers are expected to continue to perform. Delivering clear direction, stability and productivity despite the difficult circumstances requires resilience.
Are your colleagues resilient enough to thrive?
The Continuum is a leading Organisation Development firm. We have a track record of providing tailored learning that delivers immediate and lasting gains. Our resilience solutions bring the skills and knowledge for success in the toughest of times. We offer a free no-obligation initial consultation in confidence with one of our specialist consultant to discuss your needs.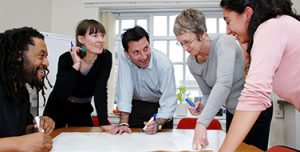 You may be interested in People Development